Installing the Thomson 585v7 - Windows (Plusnet Version)
This guide only applies to Thomson 585v7 routers received on or after 27th November 2008.
If the screenshots don't match what you see on screen, try following the older 585v7 setup guide.
1. Before you begin
This guide will take you through setting up your Thomson 585v7 Wireless router from scratch and applies to both Windows and Apple OS X systems.
Make sure your broadband connection is up and running before you set up your router - we'll email you when it's ready.
Your hardware pack contains: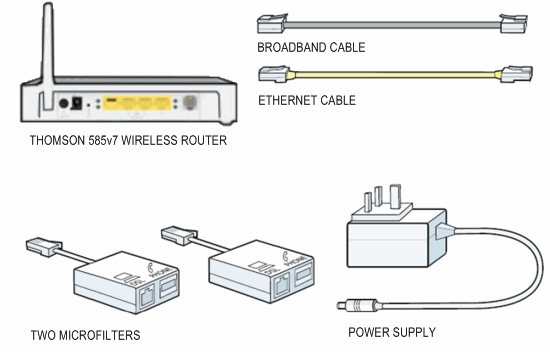 You'll also find a quick install guide and a sticker showing your wireless security details.
2. Connecting Microfilters & Cables
Microfilters
Microfilters look small and unimportant but they're essential for keeping your phone and Internet services from interfering with each other. Without microfilters you'll see poor speeds and connection drops
Plug a microfilter into each telephone socket that's used at your property
If you had to unplug something you can plug it back into the Phone socket of the microfilter
If you need more filters, you can order them from us or buy them from most electrical or computer stores
See our Guide To Fitting Microfilters if you need more help with this
Cables
Plug the grey broadband cable into the microfilter socket marked ADSL
Plug the other end of the cable into the DSL socket on the back of the router
If you've received a 2-part power supply (as in the picture above), clip the pins onto the adapter
Connect the power supply and switch the router on with the power button at the back
The Power light will turn red at first and the Broadband light will flash - wait until they've turned green (and stopped flashing) before continuing.
3. Connecting to your Computer
Now it's time to connect the router to your computer.
You can use either Wireless or Ethernet. Choose one of these and follow the steps below.
Wireless
If you're using a Thomson TG123g Wireless Adapter to connect to your wireless network, follow one of the guides below:
If you're using a different wireless adapter:
Make sure that your computer's wireless adapter is installed and working properly.
On your computer do a scan for available networks.
Find PlusnetWireless on the list and connect to it.
You'll be asked to enter the wireless security key (or passphrase). Use the WPA-PSK key shown on the bottom of the router, it's 10 characters long and the letters are CAPITALISED.
Your computer is now connected to the network. Move onto the next section, Connecting to the Internet.
Ethernet
Plug the yellow Ethernet cable into one of the 4 available Ethernet sockets on the back of your router.
Plug the other end of the Ethernet cable into your computer's Ethernet socket.
Your computer is now connected to the network. Move onto the next section, Connecting to the Internet.
4. Connecting to the Internet
During the following steps you may be asked for router login details, see What are the router username & password? if you're not sure what these are.
On your computer, open a Web Browser, such as Internet Explorer or Safari. You'll see The Thomson welcome page. (If this doesn't happen, or you get an error page, see No Welcome Page?).

Click Set up my Thomson Gateway and go to step 2.

The Easy Setup wizard will open in a new window. Click Next.

On the Service Selection screen, choose Plusnet and click Next. Only choose Other if you want to use No-NAT or other advanced setup options.

If you see different options on this screen, please follow the guide for 585v7 routers ordered and received before 27th November 2008.

Enter your Broadband Username and Password and click Next.

Find your Broadband Username under the summary section of My Account.
The Password is the one that you use to log in to this website.

Finally you'll see a summary screen. Have a quick check through the settings to make sure everything is correct. Use the Back button if there's anything you need to change. Press Start to finish the setup wizard and connect to broadband.

After about a minute the Internet light on the router will go green and you'll see a confirmation screen. Click Finish.

That's it! You're connected to Broadband.
5. Troubleshooting
No welcome page?
If you see an error page during step 1 of Connecting to the Internet, type http://192.168.1.254 into the address bar and press enter on your keyboard.
You'll be taken to the Thomson home page. Click Thomson on the left menu. Next click Set Up (under Pick a Task... at the bottom of the page) and go back to step 2 to continue configuring your router.
What are the router username & password?
If you've not changed or added a password then the details you'll need to use depend on when you received your kit:
27th November - 3rd Dec 2008

Username: Administrator Password: Serial Number

3rd Dec 2008 - 23rd Nov 2009

Username: Administrator Password: No Password

24th Nov 2009 onwards

Username: admin Password: Serial Number
All details are Case Sensitive
The Serial Number is shown on the bottom of the Thomson Gateway:

Resetting your router
If you have any problems setting up your Thomson Gateway, you can reset it and start again.
Use a paperclip, pen or pointed object to press into the reset pin hole on the back of the router. Keep the button pressed in for at least 7 seconds. When the power light goes red, release the button and wait until the power light turns green again.
You now need to apply your settings again. Follow this guide again from Connecting to the Internet.
---
Has this page helped you solve your problem? Your feedback helps us to improve the help we provide.
Rate this page :
Please note: We cannot reply to individual feedback through Rate My Page. If you need more help with a problem please use Contact Us.
---
A Guide to Fitting Microfilters