A Guide to Microfilters
If you want a stable broadband service, you'll need to make sure your microfilters are fitted properly. The act of fitting a microfilter is easy, but knowing how many you need and where they should go can seem complicated if you have a lot of equipment connected to your line. It's easy when you know how though. Here we'll explain why you need microfilters, where to put them and what to avoid.
Why are microfilters needed?
Broadband shares space on your line with your telephone service. A microfilter is needed to separate the two and stop them from interfering with each other. Without microfilters you'll have problems with your connection and you may hear background noise when using your landline.
How many microfilters do you need?
It depends how many devices you use and where they are.
By devices we mean:
Telephones
Sky digital boxes
Fax machines
Burglar alarms
And anything else that plugs into your telephone line.
In short, if it uses your line then it needs a microfilter.
Key terms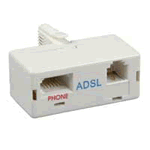 Microfilter
This is a typical microfilter, also known as a filter or 'splitter'. The style varies between manufacturers but all filters should have two sockets, one for your broadband hardware (usually marked 'ADSL'), and one for a telephone device.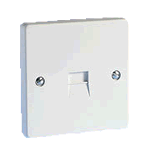 Master socket
This is the point where your telephone line enters your house from outside.
You might have several telephone sockets in your property, but all other sockets are connected from this one.
Where to fit your microfilters and broadband hardware
It can seem daunting if you've got a lot of equipment in your property, but bear the following in mind and you shouldn't go wrong:
Every device on your line needs to pass through a microfilter before it connects to a wall socket.
You can connect more than one device through a filter with a line splitter.
Make sure your broadband router or modem only passes through one filter.
If you can, try to install your broadband kit as close to the master socket as possible as this is where the broadband signal is strongest. If your computer isn't close by, try to use as little extension cable as possible.
If you're using wireless you should be able to connect your kit directly to the master socket and connect to the wireless network from anywhere in your home.
Below you'll see a few examples of how to install your microfilters. We can't cover every combination but these should give you an idea of what to do.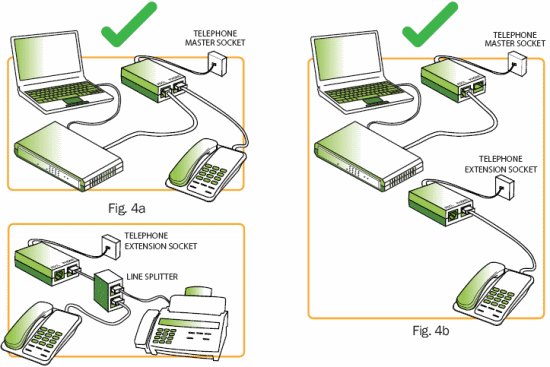 How not to do it
This is how not to set up your equipment. If you follow the connection back from the router, you'll see that it passes through two microfilters before it gets to the master socket: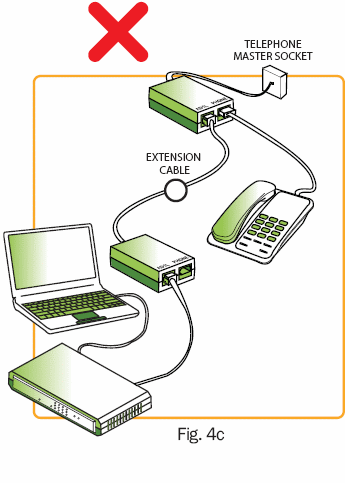 Having problems?
If you're having problems and this guide hasn't helped, please get in touch with us by raising a Question using Contact Us.
---
Has this page helped you solve your problem? Your feedback helps us to improve the help we provide.
Rate this page :
Please note: We cannot reply to individual feedback through Rate My Page. If you need more help with a problem please use Contact Us.
---