Home Wireless Networking Kit
Thomson wireless kit
Our Price: FREE
Normal Price:

£60.00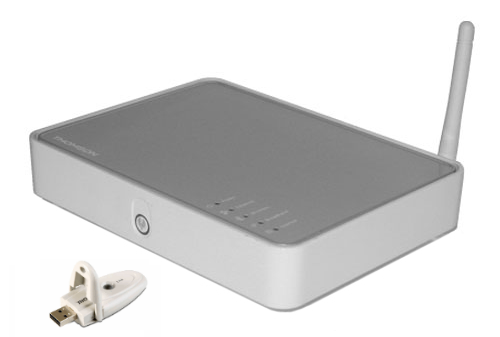 The wireless networking kit is supplied by leading manufacturer Thomson. It includes a Thomson 585v7 wireless ADSL router, which supports ADSL2/2+, the next generation of ADSL Broadband services. The router supports the 802.11g wireless standard, meaning you can create a wireless network with speeds up to 54Mbps. There are four Ethernet ports so you can use wired connections to PCs, Macs, games consoles and other Ethernet-enabled equipment. Also included is a firewall and enhanced wireless security.
The home wireless networking kit includes one Thomson TG123g Wireless USB adapter. The adapter is the simple way to connect a PC or a Mac to your home wireless network. Additional adapters are available during the signup process.
Two microfilters are included with the wireless networking kit. You will need to install a microfilter in every phone socket that is in use, not just the one that your router is connected to. Additional microfilters are available during the signup process.
The home wireless networking kit is available for free to customers signing up to Madasafish Broadband - P&P is only £6.99. Otherwise, the kit costs £60 + P&P. All prices include VAT.
Technical Requirements
Thomson 585v7 Wireless Router: Windows 2000, XP, Vista, Mac OSX 10.1 or above, or Linux (unsupported).
Thomson TG123g Wireless USB adapter: Windows 2000, XP, Vista, Mac OSX 10.4 or above