Online Console Gaming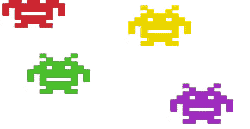 Visit exotic new places, meet exciting new people from around the world and blow them to smithereens! Welcome to the world of online console gaming.
Gone are the days of only being able to pit your racing, fighting or shooting skills against the artificial intelligence (sometimes in the very broadest definition of 'intelligence') of the game, or the skills of your close friends. Nowadays, broadband can offer you the opportunity to compete with other players around the world, chat with your allies and adversaries, and even see your name on high score tables worldwide. Not to mention downloading extra levels and other content for your favourite games, or even entirely new games.
Xbox, PlayStation and Nintendo Wii all offer tremendous online facilities for console owners, and Madasafish Broadband fully supports all three (which of course you'll own, if you're a truly hardcore gamer!). Plus, because we don't restrict or block gaming services like some ISPs, you're much less likely to lose that nail-biting final lap because your connection speed has slowed to a snail's pace
Just choose your console below to discover how easy it is to get online...