Installing the Voyager 205 - Ethernet connection - Vista
To connect your computer to the Ethernet socket of the Voyager 205 Router:
Attach one end (any end) of the grey Ethernet cable to the Ethernet socket at the back of your Router.
Connect the other end of the cable to the Ethernet/Network Interface Card (NIC) socket of your computer.

If the computer cannot find the router, leave for a few minutes and try again. Should the dial-up connection appear click on Tools, Internet Options and select the Connections tab, choose Never dial a connection and apply your settings. If this does not solve the problem, restart the computer with the router plugged in and try again.
1. Your Voyager 205 Router is pre-configured for UK Consumer Broadband services using NAT and Dynamic IP address allocation (PPPoA and VC MUX). The only settings you need to configure on your Voyager 205 is your Broadband Username and Password provided by us.

2. To set or update your Broadband connection settings, open your web browser and type http://192.168.1.1 into the URL address box. Then press the Enter or Return key or click on Go.
The Configuration Manager opens at the Quick Start page.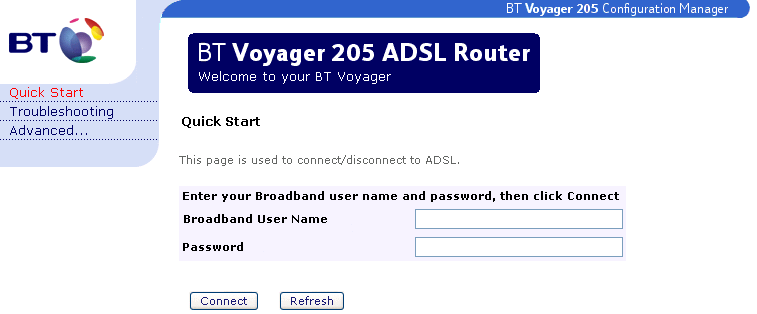 3. If a Windows dial-up networking screen appears when trying to connect to the Internet, you will need to follow these steps to set-up your browser to stop dialling a connection.
Click Start, then Settings/Control Panel
Double click the Internet Options icon
Click on the Connections tab
Select Never dial a connection
Click LAN Settings
Select Automatically detect settings

This will ensure that Internet Explorer and Windows Mail use the correct settings to connect to the Internet.
4. Make sure that your Broadband service is ready by checking that the DSL light is ON and steady. If the DSL light is flashing then check that you have a microfilter on every device connected to your telephone line.
5. Enter your Broadband Username and Password into the Broadband Username and Password fields on the Quick Start screen.
6. Click Connect. The Voyager 205 will now connect you to our Internet service and the Quick Start screen will change to show the connection status. If at any time you wish to disconnect from your Internet service, simply click the Disconnect button.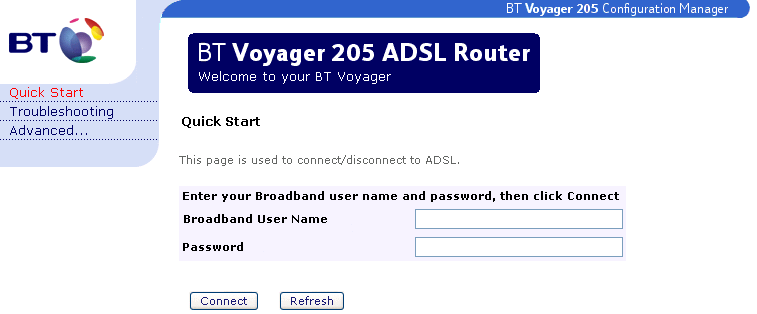 7. If you cannot browse the Internet, click Disconnect, then follow steps above again.
With your Voyager 205 Router, your broadband connection is always-on and you do not have to dial-up to initiate the connection. Simply start your Internet browser and surf the Internet. That's it!
---
Has this page helped you solve your problem? Your feedback helps us to improve the help we provide.
Rate this page :
Please note: We cannot reply to individual feedback through Rate My Page. If you need more help with a problem please use Contact Us.
---
Installing the Voyager 205 - USB connection