Checking your settings
To access Safari Settings open Safari.
Click on Safari and Select Preferences.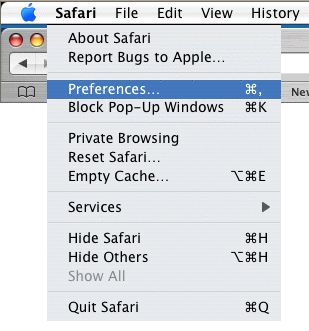 The General tab.
Default Web Browser: Safari
New windows opens with: Homepage
Home Page: http://www.madasafish.com
Save Downloaded files to: Desktop
Remove Download lists items: Manually
Open "save" files after downloading is ticked
Open links from applications: in a new window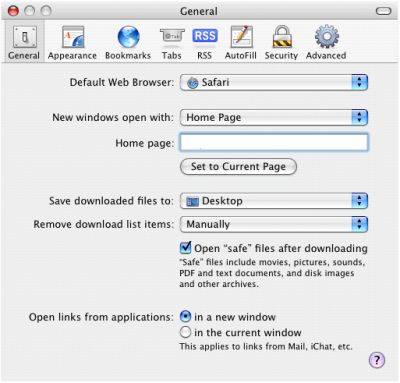 The Appearance tab
Standard font: Times 16
Fixed-width font: Courier 13
Display images when the page opens is ticked
Default encoding: Western(ISO Latin 1)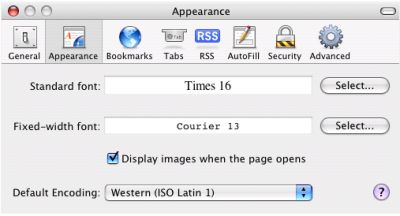 The Bookmarks tab.
Bookmarks bar:
Include Address Book is NOT ticked
Include Bonjour is Not ticked
Bookmarks Menu:
Include Bookmarks Bar is ticked
Include Address Book is NOT ticked
Include Bonjour is NOT ticked
Collections:
Include Address Book is ticked
Include Bonjour is ticked
Synchronize bookmarks with other computers using .Mac is NOT ticked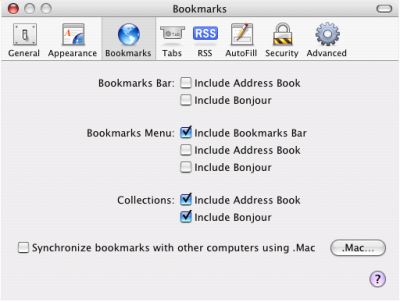 The Tabs tab.
Enable tab browsing is ticked
Select new tabs as they are created is NOT ticked
Always show tab bar is NOT ticked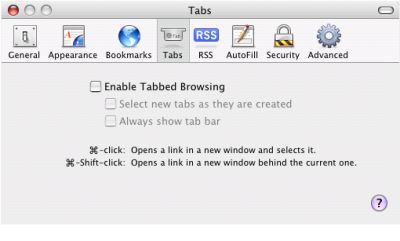 The RSS tab.
Default RSS Reader: Safari
Automatically update articles in:
Bookmarks bar is ticked
Bookmarks Menu is NOT ticked
Check for updates: Every 30 minutes
Color new articles is NOT ticked
Remove articles: after two weeks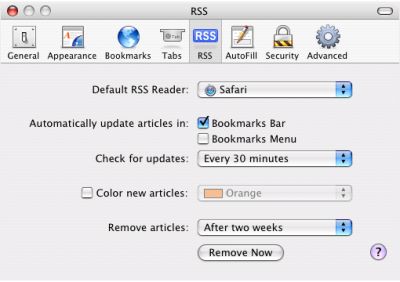 The Auto Fill tab.
Auto fill all web forms:
Use info from my Address Book card is ticked
User names and passwords is NOT ticked
Other forms is ticked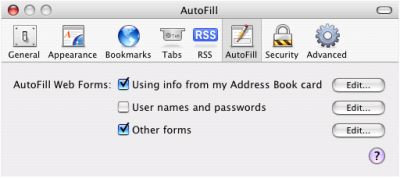 The Security tab.
Web Content:
Enable plug-ins is ticked
Enable Java is ticked
Enable Java script is ticked
Block pop-up windows is NOT ticked
Accept cookies:
Only from sites you navigate to is selected
Ask before sending a non-secure form to a secure website is ticked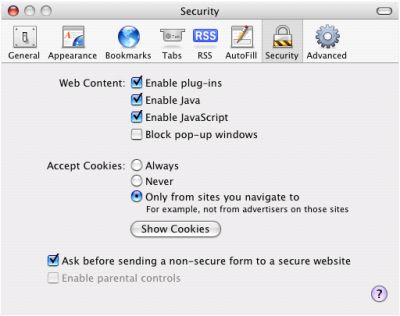 The Advanced tab.
Universal Access:
Never use font sizes smaller than 9 is NOT ticked
Press tab to highlight each item on a webpage is NOT ticked
Style Sheet: None Selected
Proxies: Change Settings...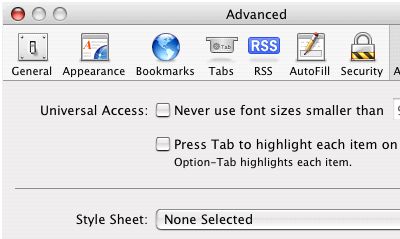 ---
Has this page helped you solve your problem? Your feedback helps us to improve the help we provide.
Rate this page :
Please note: We cannot reply to individual feedback through Rate My Page. If you need more help with a problem please use Contact Us.
---