Verified by Visa and MasterCard SecureCode FAQ
1. What is Verified by Visa/MasterCard SecureCode?
At Madasafish, we take online security seriously. That's why we've introduced a new step whenever you use your Visa or MasterCard on our website - Verified by Visa/MasterCard SecureCode.
It's an online security system which confirms your identify, by asking for a personal password which you create. It gives you the peace of mind that only you can use your card online to pay for things.
Registering and creating a personal password for your card is quick and easy, plus you only need to do it once. Over 300,000 other websites across Europe participate in the scheme, so if you've already registered whilst shopping on another website, then you'll be ready to use Verified by Visa/MasterCard SecureCode on our site too.
2. How do I register my card and create a password?
If you've not yet registered your card you can either do it on your card issuer's website (just look for the Verified by Visa or MasterCard SecureCode logos/link), or you'll be asked if you want to register when you use your card on our site.
3. So, how does it work?
If you've not registered your card, before you make a payment you'll see a box similar to the one below (showing either the Verified by Visa or MasterCard SecureCode logo, depending on your card type). You'll be asked to fill in a few details and when you want to activate your card.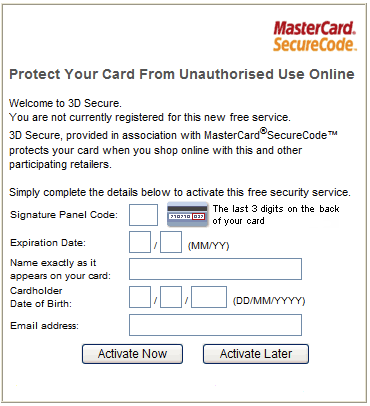 As an extra security measure, the box also displays the logo of the bank/building society that your card is linked to. (We've removed this in the example above).
Then, whenever you use your card to make a payment online you'll be asked to enter the personal password you've chosen. This confirms your purchase (think of it like entering your PIN number online). Once your payment has been authorised, you'll see a confirmation screen.
4. How do I know that i'm protected when buying online?
You'll see a Verified by Visa and MasterCard SecureCode logo at the point you pay. This confirms that the website uses the system.
If you've already registered your card, the system will automatically recognise your card details when you enter them. You'll then be asked for your personal password to complete your transaction.
5. Can I use Verified by Visa/MasterCard SecureCode on any computer?
Yes, as long as the computer has an Internet connection. You don't need to download or install any software.
6. What if I forget my personal password?
No problem, it's easy to reset. You'll just need to go to your card issuer's website and follow the instructions for resetting your Verified by Visa or MasterCard SecureCode password.
7. Can I register my existing Visa card/MasterCard, or do I need a new one?
You can register any of the Visa or MasterCard cards you've already got, or any new cards you receive in the future.
8. Can I register both my debit and credit cards?
Yes. The types of card that can be registered depend on the bank that's issued them. These can include:
Visa and MasterCard credit/charge cards, Visa Debit, Visa Electron, Visa Delta, Maestro, Switch, Solo and AMEX.
Note: Please check with your card issuer for more details. Some card types can only be used to make one-off payments, they can't be used to make re-occurring monthly payments. We'll show you the cards we'll accept for the type of payment you want to make at our checkout.
9. How can I find out more about Verified by Visa/MasterCard SecureCode?
For more information go to:
Verified by Visa: http://www.visa.co.uk/en/security/online_security/verified_by_visa.aspx
MasterCard SecureCode: http://www.mastercard.com/uk/personal/en/cardholderservices/securecode/index.html
---
Has this page helped you solve your problem? Your feedback helps us to improve the help we provide.
Rate this page :
Please note: We cannot reply to individual feedback through Rate My Page. If you need more help with a problem please use Contact Us.
---