Installing the D-Link DSL-504T - Mac
For information about connecting to your phone line, the microfilters and the Ethernet cable, see this document: Getting started D-Link DSL-504T.
Before starting the setup process, ensure that the RJ-45 (Ethernet) cable is plugged in to your network interface. On some operating systems, it can take up to three minutes between plugging in the Ethernet cable and the computer responding to the router. If the computer cannot find the router, leave for a few minutes and try again. If this does not solve the problem, restart the computer with the router plugged in and try again.
Before installing the modem please ensure that your TCP/IP settings are correct.
Click on the Apple icon, then Control Panels and TCP/IP.
Make sure Connect via is set to Ethernet and Configure is set to Using DHCP Server.
The IP Address box should read : 192.168.1.4.
The Subnet Mask box should read : 255.255.255.0
The Router box should read : 192.168.1.1
In the Name Server Addr. box enter the following details.
212.159.13.49
212.159.13.50
Click to close the box and you will be prompted to save the changes.
Click Save.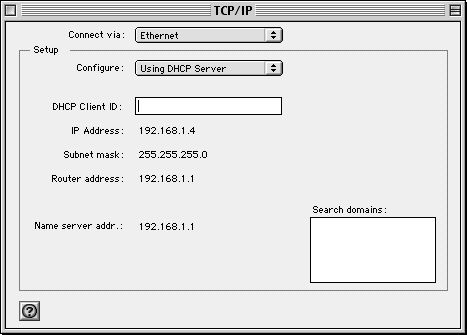 Open your web browser and type http://192.168.1.1 into the URL address box. Then press the Enter or Return key. The login page appears.
Type "admin for the Login Name and "admin" in the Password field.
Click Login.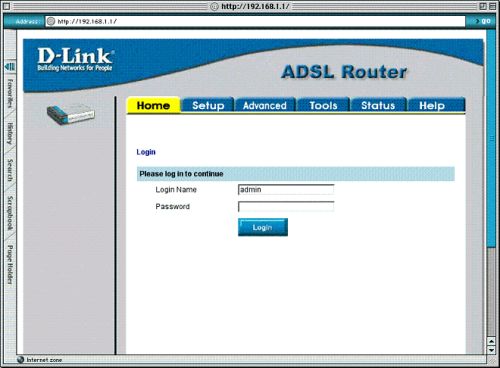 Once you have logged in, the Home screen will appear. Click the Setup tab to go to the Setup menu and configure the Router.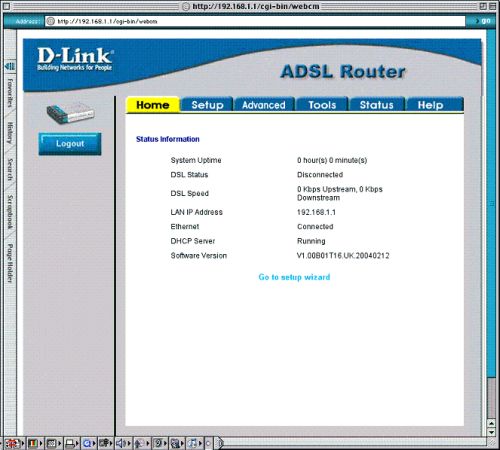 In the Setup menu, click the Connection 1 button to go to the configuration menu for the Internet connection.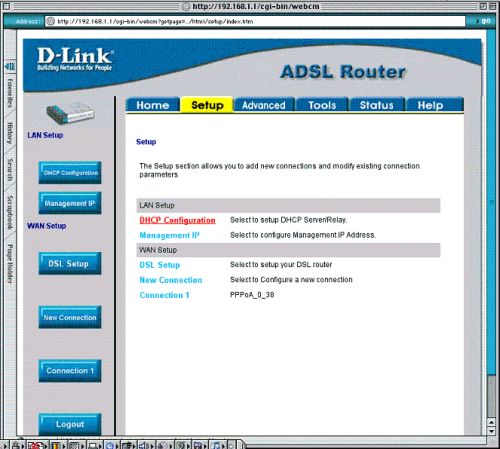 In the Connection 1 menu, type your Username and Password.
Ensure that Encapsulation is set to VC and Type is set to PPPoA.
Also ensure that VPI is set to 0 and VCI is set to 38.
Click the Apply button after you have entered all the information.
Click Tools when you have applied the new settings.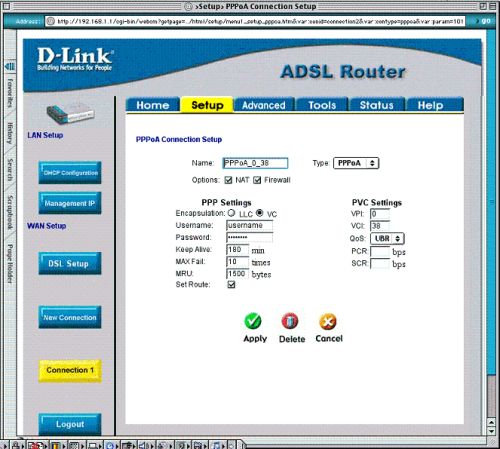 Now save the changes you have just made. The save function is accessed from the System Commands menu. Click the System Commands button to view that menu.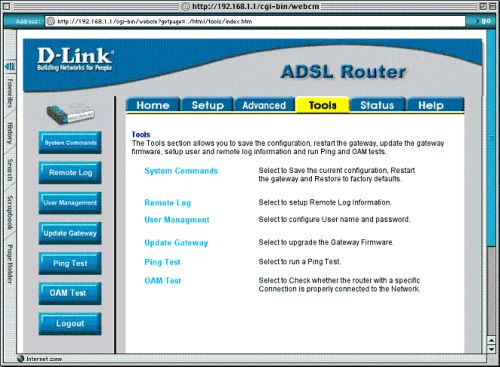 To save the new settings, click the Save All button in the System Commands menu. After a few seconds, the changes will be saved. The modem will automatically establish the Internet connection after a few more seconds.
Wait a few seconds for the Internet connection to be established and proceed to access the Internet via your web browser.
---
Has this page helped you solve your problem? Your feedback helps us to improve the help we provide.
Rate this page :
Please note: We cannot reply to individual feedback through Rate My Page. If you need more help with a problem please use Contact Us.
---
Getting started D-Link DSL-504T