Getting started with the D-Link DSL-2640B
Before installing the D-Link DSL-2640B wireless router, please ensure that:
Your Telephone line has been configured and activated for broadband.
You have your broadband username and password.
If you're replacing an existing broadband modem, it must be unplugged from your line and uninstalled from your computer.
Your computer meets the minimum specification required.
Please ensure that you have the following items in the D-Link DSL-2640B box: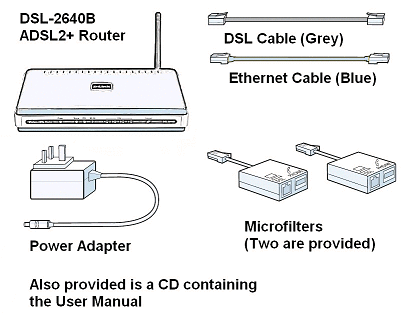 One DSL-2640B ADSL2 + Router
One Power Adapter
One CD-Rom containing the user guide
One DSL cable (Grey)
One Ethernet cable (Blue)
Two Broadband microfilters
Plug a microfilter into every telephone socket that has telephony equipment attached to it (e.g. phone, fax, answering machine, caller ID, cordless phone base unit, Sky Digital).
To install the D-Link 2640B:
Connect the power supply and DSL cable into the router.
Plug the opposite end of the DSL cable into the DSL socket of the broadband microfilter.
Wait until the DSL light is solid in colour.
If the DSL light is OFF or keeps flashing, please check the following:
Make sure that all cables are connected correctly.
You're using the DSL cable supplied with the router.
Try using another microfilter.
Disconnect all other equipment (telephones, Skybox, alarms, etc) from your telephone line and test again.
To setup and establish a connection with your D-Link DSL-2640B see Installing the D-Link DSL-2640B. Should you experience any problems with your router, please contact Madasafish Technical Support.
---
Has this page helped you solve your problem? Your feedback helps us to improve the help we provide.
Rate this page :
Please note: We cannot reply to individual feedback through Rate My Page. If you need more help with a problem please use Contact Us.
---
Installing the D-Link DSL-2640B