Intermittent connection
What is an Intermittent Connection?
An Intermittent Connection is when your modem/router drops your broadband connection at random intervals. This is not to be confused with Speed Faults, where your connection speeds may seem slower than normal.
If you have signed up for the MAX Broadband service, please ensure that you are NOT in the Dynamic Line Stability Phase (DLM).
During this period, BT monitor your connection to determine the Maximum Stable Rate your line can support, this process will take up to 10 days to complete. (Please wait for the DLM phase to complete before troubleshooting)
Troubleshooting Intermittent Connections
Check your Modem/Router
Modem and Router installation can be the main cause of an intermittent connection. Resetting and reinstalling your device to it's factory settings could resolve the problem.
Please note when reinstalling:
Existing modem drivers will need to be removed before re-installation so please make sure that you have the driver CD that came with your modem.
Firmware on Routers should be updated if available. Please check the manufacturer's web site for the latest firmware.
Check your cabling and extensions
Cabling and Extensions should be checked for any visible damage and deterioration. Ensure that all BT sockets in use (Telephones, Sky Box, Answering machines, etc) have microfilters connected. Remember that only a maximum of four devices and microfilters should be connected to your line.
Check your Microfilters
Faulty microfilters can be common causes as well. Try to connect the modem/router directly to the master socket with all other devices removed from your phone line. Monitor the connection and if you still experience a problem then swap the microfilter. By repeating this process, you can easily determine if the microfilters are faulty.
Check your Telephone for background noise
Static noises on the phone line may indicate that:
A device on your line could be causing interference
A faulty microfilter is in use
If the above has not resolved your problem, please proceed with the following:
Disconnect all devices from your phone line except the broadband modem/router. Please note that the modem/router needs to be microfiltered. If you are using a phone extension cable please remove this and connect the modem/router directly to a BT socket.
Connect your modem/router to the Test socket (Inside your Master Socket). Remove the front plate and connect your micro filter directly into the test socket which is at the bottom right hand corner.
Establish and monitor your connection over the next few hours.
Please observe the state of the DSL configuration light, as it may flash occasionally. If this deteriorates and the connection continually fails, we suggest that you contact Madasafish Technical Support for further assistance.
Below is an example of the BT Master socket.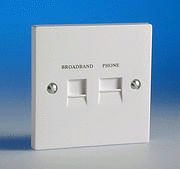 ---
Has this page helped you solve your problem? Your feedback helps us to improve the help we provide.
Rate this page :
Please note: We cannot reply to individual feedback through Rate My Page. If you need more help with a problem please use Contact Us.
---
Troubleshooting your connection speed