File FTP with Firefox
What is FTP?
FTP stands for File Transfer Protocol. Both HTTP and FTP protocols deal with transferring data across the Internet. FTP is used to upload and download files from your computer to a web server.
To Download Fire FTP Click http://fireftp.mozdev.org
Using Fire FTP
Click on Tools the select FireFTP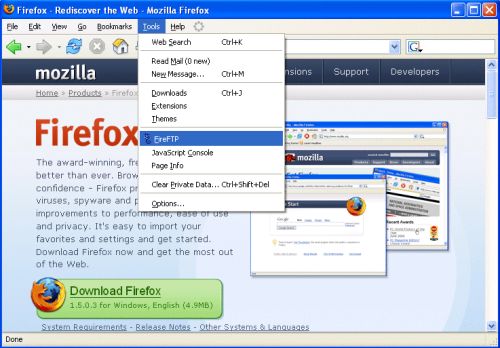 If experiencing problems with your connection, follow these steps.
Do you have the latest versions of FireFTP and Firefox? The latest version can be found at http://fireftp.mozdev.org/
Are you behind a firewall? Try turning it off temporarily to see if it is the source of your problem. If so, you might have to configure your software to allow FireFTP to access the Internet.
Does your server allow only active mode? Try turning off "Passive Mode" in FireFTP under your account's configuration options. This is found on the "Account Manager" dialog, under the Connection tab.
Do you use a proxy? Try setting the proxy under Preferences in the Connections sub menu.
Have you been able to connect with other FTP clients? Please check to see if the problem is reproducible with other FTP clients.
This should allow your FTP client to establish a connection.
Once FireFTP is open follow these steps to Connect to your Server.
Click on Manage Accounts
Select New...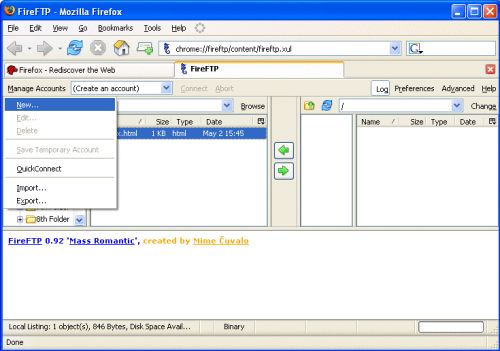 Go to the "Host" field and enter in the name of the server you wish to connect to.
Host: www.users.madasafish.com
Your username: username@madasafish.com
Your password: This is the same password that you use for accessing your Webmail.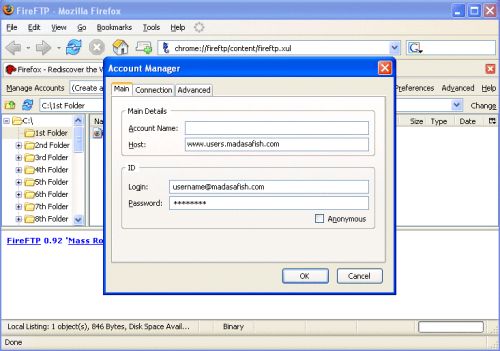 Click OK to save the account information and to close the dialog.
Click "Connect" to establish a connection.
Click OK on the FireFTP pop-up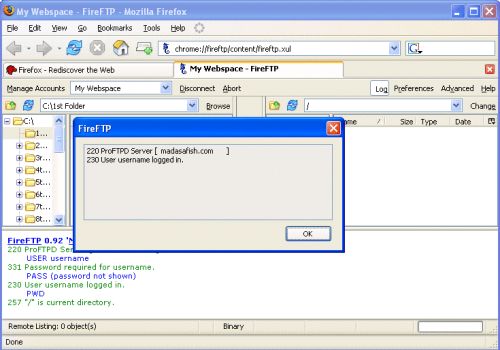 Once you have Connected, you will find that the local files are on your left and the remote files on your right. You can click on a local file and press the arrow pointing to the right to upload a file to the server.
Similarly, you can click on a file on the right side and press the arrow pointing to the left to download a file from the server to your computer.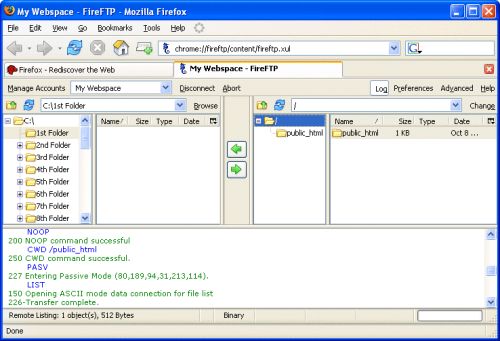 Your connection requires Passive mode to connect.
Click on Manage Accounts and select Edit...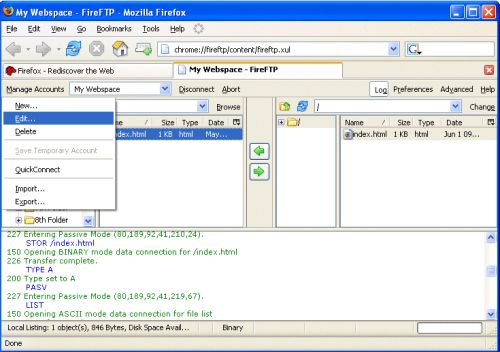 In the Account Manager, click the Connection tab.
The Passive Mode option should be ticked.
Click OK
Can FireFTP resume downloads?
Yes it can.

If you lose your connection, FireFTP will automatically try to reconnect and resume downloading. After this, you can resume a file just by trying to download it again. FireFTP will notice that you have a partial file already downloaded and will ask you whether you want to resume from where you left off click "Resume".
How do I rename a file/make a directory/delete files?
Right-click on the file lists. A context menu will appear showing the available functions you have, along with related keyboard shortcuts.
What is the "View on the Web" feature and what do you put in "Host" and "Prefix" for it to work?
The "View on the Web" feature is primarily designed for web developers so that they can preview images and webpages within FireFTP (using Firefox's latest Canvas technology). It can be found on the "Account Manager" dialog, under the Advanced tab.
---
Has this page helped you solve your problem? Your feedback helps us to improve the help we provide.
Rate this page :
Please note: We cannot reply to individual feedback through Rate My Page. If you need more help with a problem please use Contact Us.
---