Contact Us Guide
This guide will show you how to use Contact Us to get in touch (also known as 'raising a Ticket') with our Support Team.


General
Using Contact Us
Questions
What is Contact Us?
Contact Us is a quick way to get the information you need to answer any queries you have about your service. Just like email, Contact Us allows you to raise your question directly to our Support Team.
Why use Contact Us
It's quicker and more accountable than email. We believe that all of our customers should have a quick way to get their questions answered 24 hours a day, without the need to ring us.
How do I use Contact Us?
Using Contact Us is very straightforward. There are 3 ways to use the tool.
1) You can either click the Contact Us link at the top of the page:

2) Or click the Contact Us link in the page footer:

3) Alternatively you may fill out the 'Contact the Madasafish Support Team' form found at the bottom of every support page (when logged in). See Raising a Ticket directly from a support page for more details on how to do this.
Contact Us Start Screen
There are 4 sections to Contact Us:
Customer Services & Billing
Sales & Orders
Technical Support
My Broadband Connection
You can choose to view the section by clicking the section title. (e.g. clicking on Sales & Orders will take you to a list of subjects within Sales & Orders). Note that the list of subjects are provided on the Start Screen, under each of the 4 section titles, allowing you to go directly to the area you're interested in.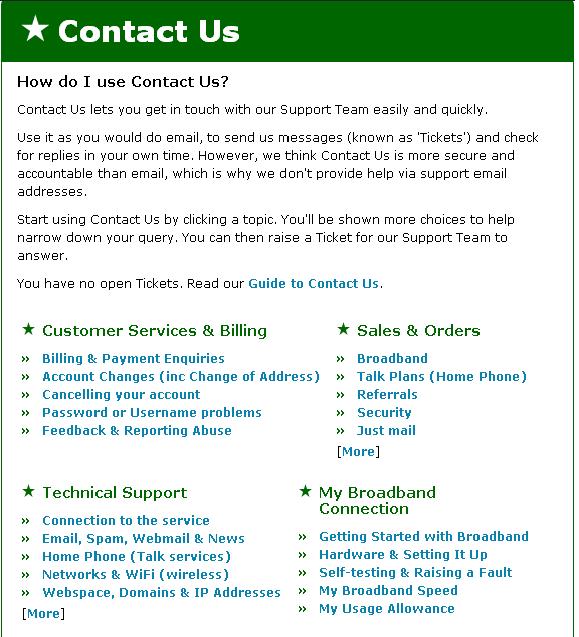 Navigating through Contact Us
1) Once you have selected the relevant topic for your enquiry, you are shown further questions to help us narrow down the possible answers to your enquiry.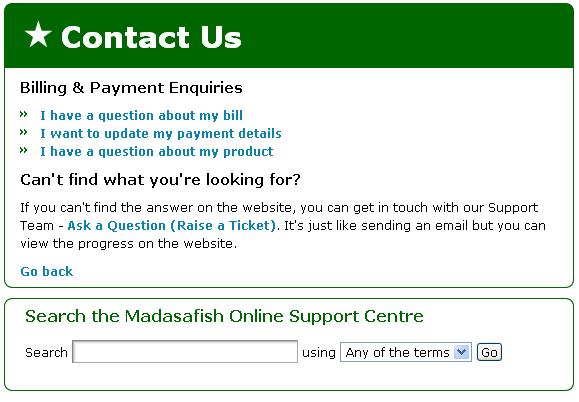 2) Clicking on the relevant option will then open a new Ticket screen, allowing you to fill in a information about your query (as shown below) and send this to our Support Team.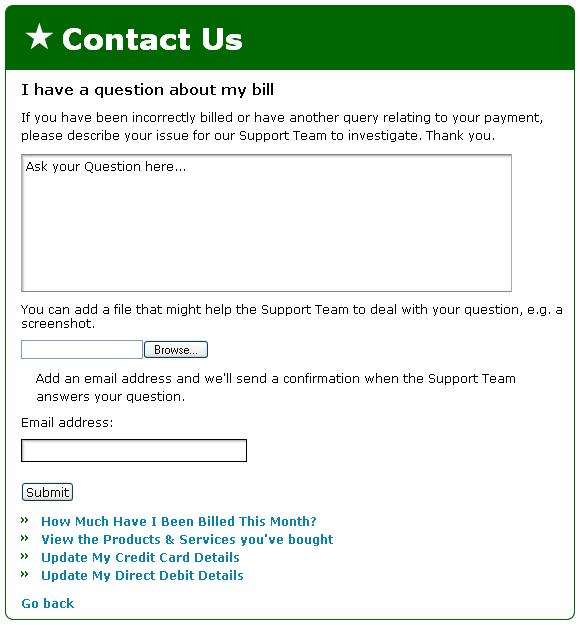 Note: For your convenience, at the bottom of each Ticket you'll see a series of handy links to other queries you can ask within Contact Us.
What is a Ticket?
A Ticket is just like sending an email to us, but with the added benefit of being able to see the progress of your query on the website. You'll see when one of our Support Team reply to your question and be able to reply back.
Where is the Support Team email address?
We no longer have an email address which you can use to contact the Support Team. We don't believe that email is secure or accountable enough to use as a help and suppprt tool. Instead, we have the online tool, Contact Us.
How to raise a Ticket
There are 2 ways to raise a Ticket.
1) Raising a Ticket directly from a support page
Perhaps you've found that one of our support pages hasn't helped to answer you query or solve your problem? If this happens, you can send your question directly to our Support Team by directly raising a Ticket from the page itself.
Note: you will only be able to do this if you are logged in.
Simply scroll down to the bottom of the support page and you will see the following contact form. You can use this to get in touch with us: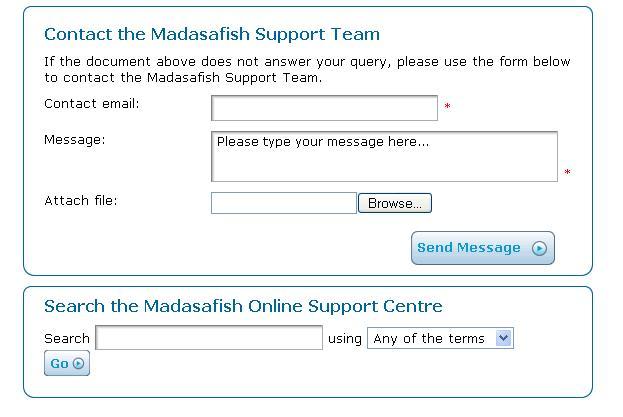 Here you can write your message and also attach a file (e.g. a screenshot), if you think this will help our Support Team deal with your query. Don't forget to type your contact email address and click 'Send Message' to send the Ticket to our Support Team.
2) Raising a Ticket from Contact Us
When selecting this option, you will be presented with a screen like the one shown in Step 2 of Navigating through Contact Us, above. (The Ticket screen will be the same, but the text will vary depending on the nature of the query you are making (i.e. in the example above the query is about billing/payment).
1) Click on the first box and type your message.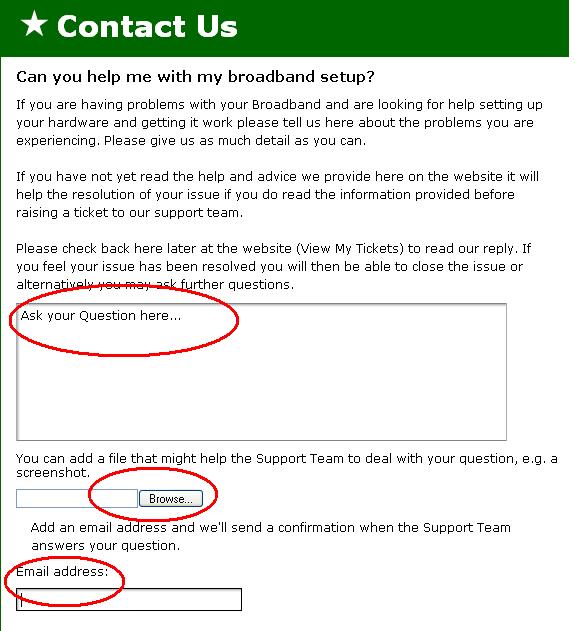 2) Again, if you want to add a file to support your query, you can do this using the second option.
3) Finally, you can choose which email address we should send Ticket update notifications to. By default this the address you chose as the contact email address for your account. If you want to use an alternative, such as a work address, or a friend's address, just update the box here and then click 'Submit'. You've now raised a Ticket - your query has been sent to our Support Team.
Note: It is not possible to change the email address for a Question after it has been raised. If you do need to change the email address, please make sure this is done when raising the Question.
Tracking Your query
Once you've raised a query with our Support Team you can track its progress until your query is resolved. Contact Us will tell you the number of Tickets you have open by way of a link (as shown below)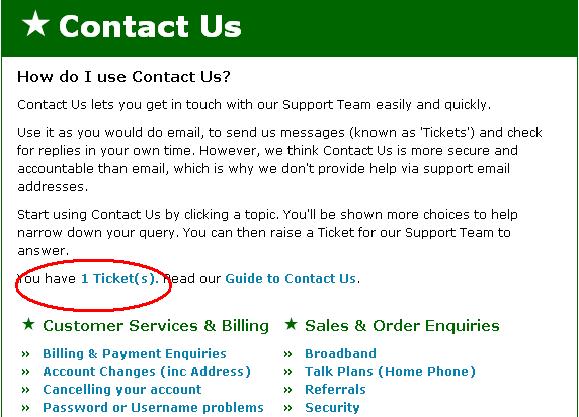 Clicking on the link shown above (alternatively you can go to View My Tickets) will show you:
1. A summary of your open Tickets.
2. The status of your Tickets. (E.g. a Ticket may have been been returned to you with a response from our Support Team, or it may still be being processed).

Clicking on one of the summaries will take you to the start of that particular Ticket. You can then see the dialogue on the Ticket, from your initial text and any replies our Support Team have given (including all internal communications). These are normally shown as "[INTERNAL]" or "INTERNAL:". As part of our transparent approach, we think it's only fair that you see all internal comments which relate to your Tickets.
At the bottom of each Ticket you will have these options:
Add comment: This gives you the opportunity to add more text to the Ticket and return it back to the Support Team. You can also add an attachment if you need to include support documentation or screen shots.


Close: If you decide to close the Ticket you will be asked to rate the support you have been given. We take all feedback seriously, so please take a few seconds to give us your thoughts as this is the best way to help us improve our support to you.
---
Has this page helped you solve your problem? Your feedback helps us to improve the help we provide.
Rate this page :
Please note: We cannot reply to individual feedback through Rate My Page. If you need more help with a problem please use Contact Us.
---