Using the Broadband Speed Test
If you experience slow broadband speeds it may be the result of a network fault. We provide a Broadband Speed Test to help identify the cause of slow speeds.
Important: Before using the Broadband Speed Test please make sure you are not using your connection for any applications such as file sharing (peer-to-peer), or software downloads etc.
Speed testing is easy!
Step 1 - Log in to My Account
Go to http://www.madasafish.com then click My Account > Internet.
Step 2 - Navigate to the Broadband Speed Test
Now look for the 'Test your broadband speed' link on this page, under 'Broadband Speed Test'.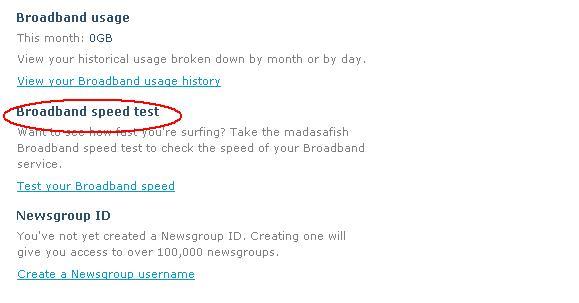 Step 3 - Start the test
Read the information on the Broadband Speed Test page and then click 'Test your speed now' to run the check. The test will perform a number of checks on your connection and you will briefly see a screen similar to this whilst your results are being generated: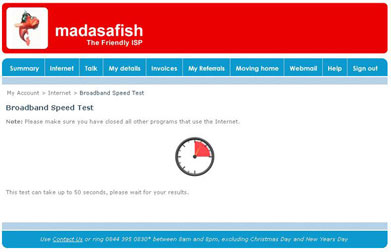 Step 4 - Results
You'll now see the results of the connection check. If your connection has been upgraded to Broadband Max, then you will see a similar screen to the one below - including your BRAS setting and IP throughput (speed achieved). If you haven't been upgraded, you'll just see your speed
You will also see the results for the last 3 speed tests you ran, so you can compare these.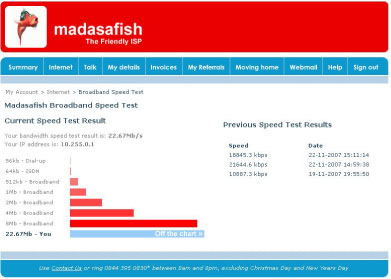 Broadband is not always available at the maximum possible speed. The list below shows what speeds are acceptable for each product. If your average speed over three or more tests falls below these levels then BT will investigate your broadband fault.
Acceptable Speeds
| | |
| --- | --- |
| Broadband Product Speed | Acceptable Average Speed |
| 256Kb | 50Kbps or higher |
| 512Kb | 100Kbps or higher |
| 1Mb | 200Kbps or higher |
| 2Mb or higher | 400Kbps or higher |
Reporting speed faults
Please note: the Broadband Speed Test is provided as a guide and is not a definitive indicator of your service speed. BT need at least three speed tests be completed before they will investigate a reported problem. At least one of these tests should be completed during the off peak hours of midnight - 4pm, to determine whether slow speeds are the result of contention or other factors.
What to do:
Before reporting a fault you should check a few things. Our Broadband Speed Faults Guide explains what these are.
If you still think you've got a speed fault, you should report it using the Broadband Fault Checker.
Please note: when reporting a fault make sure you tell us your speed test results. This information will help our support team to quickly deal with your problem.
---
Has this page helped you solve your problem? Your feedback helps us to improve the help we provide.
Rate this page :
Please note: We cannot reply to individual feedback through Rate My Page. If you need more help with a problem please use Contact Us.
---