Uploading with FrontPage 98
It is possible to use FrontPage 98 to publish a website on the UNIX webspace provided by Madasafish. However, the UNIX webspace server does not have access to any of the FrontPage extensions required by the FrontPage 98 'Web Bot' components and if they are used in the construction of your website, they will prevent it from working correctly. In the example below the website has been developed using the 'Personal Web Server' facility provided by FrontPage 98 and is demonstrating how to publish to your webspace for the first time.
1. Open FrontPage 98 and open the FrontPage web that you have developed on your 'Personal Web Server'.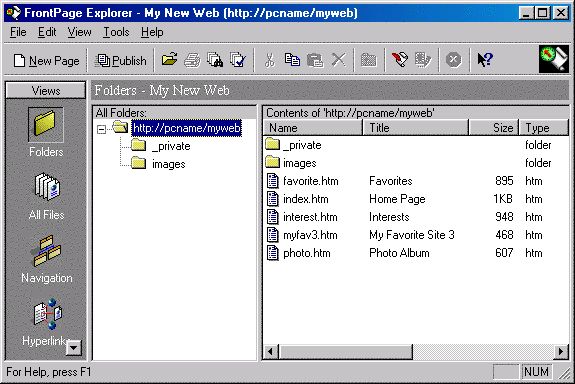 2. Select File and then Publish FrontPage Web.
In the Publish FrontPage Web window enter http://www.users.madasafish.com , replacing any information currently held there, then click on OK. FrontPage will then launch the Microsoft Web Publishing Wizard.
NOTE: If you find that you have a Publish window displayed instead of the Publish FrontPage Web window, click More Webs to display the Publish FrontPage Web window.

3. Enter users.madasafish.com within FTP Server Name.
Leave Directory Path blank.
Click Next.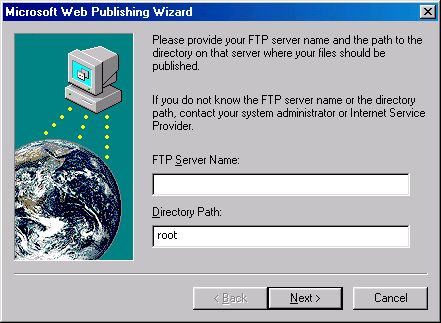 4. Enter your username and password that you use to connect to Madasafish, then click on Finish.
Remember usernames must be entered in lower case and passwords are case sensitive.
5. FrontPage 98 will now log onto your webspace and begin transferring your files.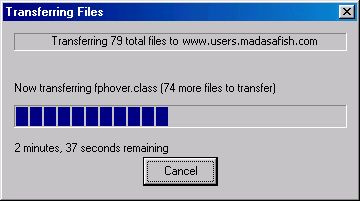 6. After the file transfer is complete you should be able to view the files via a normal web browser such as Internet Explorer. Simply enter the URL of your webspace, e.g. http://www.users.madasafish.com/~username/.
Problems with uploading 'Dynamic' components.
When uploading to the webspace server, which doesn't include FrontPage extensions, certain 'Dynamic' components that may have been used in the design of the web page will not work. FrontPage 98 detects this and will display the following warning:

"The following pages in your FrontPage web contain dynamic FrontPage components, such as a Search Form or a FrontPage form handler. They will not work because the server you are publishing to does not have the FrontPage Server extensions installed."

The pages that contain the invalid components are listed and you should make a note of the pages containing the 'Dynamic' components then click Cancel, which will terminate the upload operation.
From within FrontPage Editor edit the pages listed and remove the 'Dynamic' components that are causing the failure. You will then be able to restart the upload procedure by returning to Step 2 near the beginning of this document.
---
Has this page helped you solve your problem? Your feedback helps us to improve the help we provide.
Rate this page :
Please note: We cannot reply to individual feedback through Rate My Page. If you need more help with a problem please use Contact Us.
---