PlayStation 3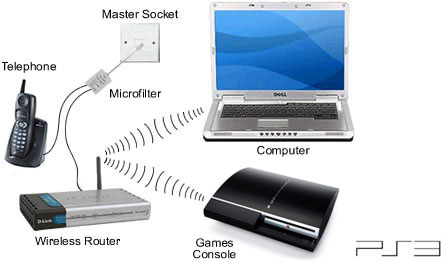 Wireless Connection
By far the most convenient method of online gaming is through a wireless connection, especially as PlayStation 3 comes with inbuilt wireless functionality straight out of the box. If you have a wireless router you can easily connect your Playstation 3 to your broadband service even if the console is in a different room! Our wireless home networking kit can be ordered during the Madasafish Broadband signup process and will allow you to get online straight away.
Router Connection
As well as wireless connections, our wireless home networking kit allows you to plug your PlayStation directly into your broadband service via Ethernet at the same time as your computer. You can still play games online via your console even when your computer is switched off, as the router acts independently of your computer. Our Wireless Networking Kit comes with a free Ethernet cable, but if you're already using that, some PlayStation packages also include a free one. If you need to purchase an additional Ethernet cable, they're inexpensive and pretty easy to find in high street and online electronics or games shops.
Find out more about PlayStation online gaming at the official PlayStation Site.