Phishing filter - IE 7
The Phishing Filter warns you if the website you are visiting might be impersonating a trusted website. The Phishing Filter does this by first checking the address of the website you are visiting against a list of website addresses stored on your computer that have been reported to Microsoft as legitimate ("legitimate list").
Automatic checking of all websites by Phishing Filter is Off by default. The Phishing Filter can be turned On and Off from the Internet Explorer Tools menu.
To turn On automatic checking of all websites:
Click on Tools
Click on Phishing Filter
Click Turn On Automatic Website Checking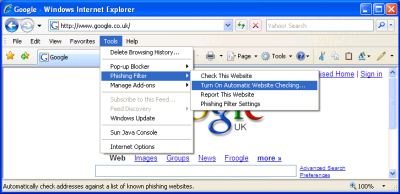 Make sure Turn On automatic Phishing Filter is selected.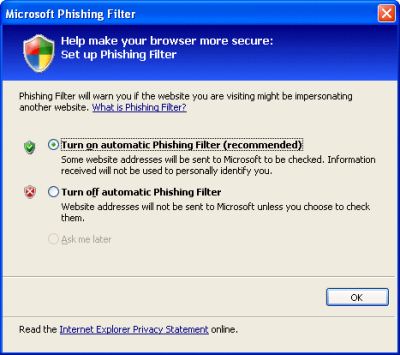 Now click on OK.
Want to check if a website is secure or not?
Click on Tools
Select Check this Website
The phishing filter will run a quick check on the website to see if it is legimate or not, a pop-up will then appear, informing you of the relevant information.
If you would like to report a website -:
Click on Tools
Select Report this Website
---
Has this page helped you solve your problem? Your feedback helps us to improve the help we provide.
Rate this page :
Please note: We cannot reply to individual feedback through Rate My Page. If you need more help with a problem please use Contact Us.
---